UK Crowdlending market to reach £ 200 million in 2013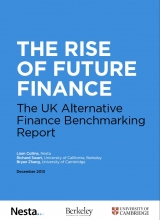 UK based Nesta has publised a report on the "Rise of Future Finance" and covers alternative finance, including P2B UK crowdlending and equity crowdfunding platforms. It is estimated that in 2013 over 647,000 projects were fully funded via alternative finance intermediaries and the report recognizes the disruptive nature of crowdfunding and the growing disintermediation of traditional sources of capital formation.
Key findings from the report include:
The UK alternative finance market grew by 91% from £492m in 2012 to £939m in 2013
The UK P2B debtlending market grew with more than 200% to £193 millon
They predict that the UK alternative finance market will grow to £1.6 billion in 2014 and provide £840m worth of business finance for start-ups and SMEs in 2014
The 91% growth stated above is an attempt to include all the diverse variants of crowdfunding.
The breakdown of the various crowdfunding categories and amounts raised for 2013 are below;
Donations based crowdfunding £310 Million
Peer-to-Peer Lending (P2P) £287 Million
Peer-to-Peer Business Lending (P2B) £193 Million
Invoice Trading (Receivables Financing) £97 Million
Equity Based Crowdfunding £28 Million
Rewards Based Crowdfunding £20.5 Million
Debt Based Crowdfunding £2.7 Million
Profit Sharing / Revenue Crowdfunding £1.5 Million
Microfinance / Community Shares £0.8 Million
The ECrowd! team
Tags:
crowdlending